KPI Reports feature

KPI (Key Performance Indicator) is an indicator to measure and evaluate the performance of employees.

Therefore, KPI Reports is an important feature for the management team. Bot admin can monitor customer service performance and support status through KPI Reports.

To view the report, click the settings icon (1), select KPI (2)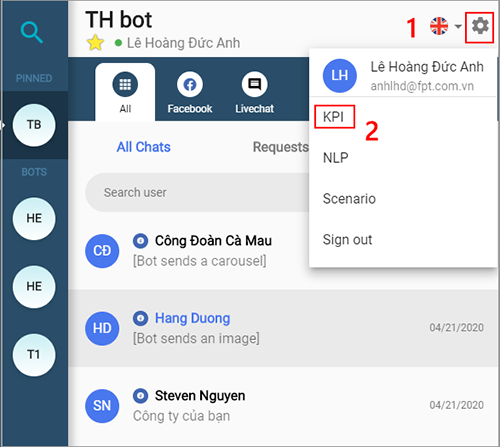 In the KPI Reports interface, the bot manager can analyze information of each supporter such as:
Served: The number of times the customer support has finished, click Mark as done.

Forward: Number of times counselors transfer conversations to other consultants

Total Assigned Chats: Total number of times assigned to support customers

Wait time: Time customers have to wait after a supporter is assigned.

Chat duration: the duration of the conversation (from the time the supporter begins to support until the support is completed or transferred to another supporter.)

The bot admin can view the KPI Reports for 1 week, 1 month, or optional time period according to need.